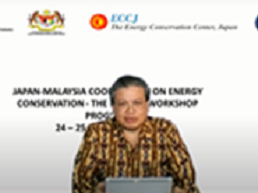 November 26, 2021
In
News
ECCJ Held 8th Energy Conservation Training (BECMY8 Part 1) for Malaysia in an Online Format
<Meeting>
Under the instruction and financial support of the Agency for Natural Resources and Energy, the Energy Conservation Center, Japan (ECCJ) has been implementing a bilateral energy conservation cooperation project with Malaysia which continued in FY2021. Due to the impact of the spread of COVID-19, which made it difficult to dispatch experts to Malaysia or conduct invited training in Japan, it was decided to hold online training two times during November and December. In this Part 1 of the project, training which utilized energy-conservation practical equipment was conducted in an online format for 36 persons from government-related institutions, industry/associations and universities during the two-day period of November 24 and 25, 2021.
(1) Malaysian side: A total of 36 persons participated, comprising one person from the Sustainable Energy Development Authority (SEDA), two persons from the Energy Commission (EC), 12 persons from government-related institutions, 8 persons from industry/associations, and 13 persons from universities.
(2) Japan side: Seven persons from the ECCJ International Cooperation Division, four persons from Nippon Steel Technology Co., Ltd., and two persons from TLV Co., Ltd.
2. Training Summary:
(1) Objectives: Energy conservation practical training was implemented and instruction was given relating to the equipment details as part of the development of human resources (capacity building) focused on the training of trainers in the thermal technology and facility fields for the "Type 2 Qualified Energy Manager System" that is to be newly established in Malaysia.
(2) Lecture items: With the cooperation of the two companies that are developing the practical training course together with ECCJ, live-streamed online lectures and practical exercises relating to the following energy conservation training facilities were given over the two-day period for four hours each day.
1) Thermal training facility: Open burners, combustion furnace, and steam traps (Nippon Steel Technology and TLV)
2) Electrical training facility: Pumps, fans, compressors, and lighting fixtures (Nippon Steel Technology)
(3) Online practical training methods: Using live streaming from the two companies' training sites, lectures were given while operating the training facilities described above and measuring equipment. Many questions from the training participants were received and answered utilizing online chat.
(4) Opening and closing ceremony greetings: Greetings were given by Mr. Steve Lojuntin, SEDA Director and Mr. Motofusa Murakami, ECCJ Managing Director.
(5) Evaluation: The results of the questionnaire survey conducted among the trainees indicated that they were able to share the significance of the energy conservation practical training even when it was conducted online, and they were looking forward to the activities and developments going forward.
3. Next training (Part 2):
For the participants who took part in the training (Part 1) this time, the second thermal technology-related training course (Part 2) was held on December 3, 10, 17 and 24, 2021.