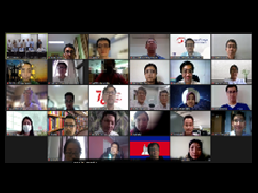 November 25, 2021
In
News
Implementation of energy conservation training (ECAP24 online seminar) for ASEAN countries on Sep. 2021
<Training program>
Under the instruction and financial support of the Agency for Natural Resources and Energy, the Energy Conservation Center, Japan (ECCJ) held an online seminar on Wednesday, September 29, 2021 targeting persons in charge of energy efficiency standards-related divisions in the governments of the 10 ASEAN countries. The seminar contents related to advanced energy management in industrial sectors, and support was provided for improving energy conservation promotion systems in the various ASEAN countries.
| | |
| --- | --- |
| | |
| View of lectures (by ECCJ) | Participant's group photograph |
The seminar was implemented targeting 52 participants from ASEAN countries, consisting of 43 persons in charge of energy conservation divisions in the governments of the 10 ASEAN countries together with 9 persons from the ASEAN Centre for Energy (ACE), and the following achievements were obtained. Additionally, ECCJ could confirm the high degree of interest among participants in the details of the seminar topics through activities including the holding of lively question and answer sessions with the participants. It is expected that the related seminars going forward will be similarly stimulating.
(1) ECCJ gave lectures consisting of the basic points for improving energy conservation relating to a wide range of factories and commercial buildings, the key points and the applied systems / equipment by each EE&C category, and excellent case examples. From these lectures, the participants could recognize the importance of introducing highly regulated methods and high-level technologies to effectively promote energy conservation in the industrial sectors.
(2) Through presentations including case examples of advanced energy management and ongoing approach to promotion measures by 6 ASEAN countries, related information could also be shared with the other countries. This gave participants the incentive to consider the introduction of promotion measures suitable for their own countries.
By providing explanations regarding the operating condition of the high-efficiency boilers by a Japanese private company in a remote online format, it was possible to give the seminar participants, even while located in their own countries, a real feeling of appreciation for the effectiveness of the high-efficiency equipment. This activity also contributed to creating an environment for Japanese companies to facilitate their business.
*ECAP:Energy Conservation Workshop under AJEEP(ASEAN-JAPAN Energy Efficiency Partnership)