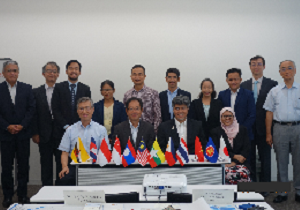 November 27, 2019
In
News
Implementation of training program in Japan as part of energy conservation support project on Sep. 2019
<Dispatch of experts>
Under the instruction and financial support of the Ministry of Economy, Trade and Industry (METI), the Energy Conservation Center, Japan (ECCJ) implemented the following activities as an initiative in the AJEEP (ASEAN-Japan Energy Efficiency Partnership) Scheme 2 by inviting nine policy supervisors from seven ASEAN countries to visit Japan for training during the four-day period from September 24 to 27, 2019.
(1) Reporting was received from the ASEAN policy supervisors regarding the energy conservation situation, the road map progress condition, and details of certified trainer activities in each of their countries, and the information was shared.
(2) Discussions were held towards building a sustainable ASEAN unique qualified energy manager certification system.
| | |
| --- | --- |
| | |
| METI keynote speech | View of training |
| | |
| Awarding of completion certificates | Group photograph |
As part of the Scheme 2 activities, nine policy supervisors from seven ASEAN countries were invited to visit Japan where the following training was implemented with the aim of enhancing the training of qualified energy managers together with promoting the capacity-building program that contributes to the building and improvement of qualified energy manager certification systems in the 10 ASEAN nations.
(1) From the country reports of each nation, ECCJ had the trainees report on the energy conservation progress situation, road map progress condition and certified trainer activity situation, and shared the information.
(2) ECCJ held discussions relating to the organizing committees, certifying organizations, working organizations and milestones required for building a sustainable ASEAN unique energy manager training of trainers system following the completion of Scheme 2.
* AJEEP: ASEAN-JAPAN Energy Efficiency Partnership
Program for building EE&C capacity in the ASEAN region by dispatching experts and implementing training in Japan