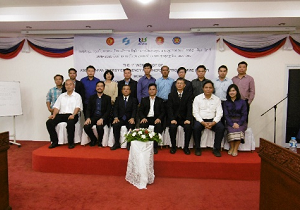 November 27, 2019
In
News
Implementation of energy conservation support project (First workshop) for Lao PDR on Sep. 2019
<Dispatch of experts>
The Energy Conservation Center, Japan (ECCJ) implemented the first workshop of FY2019 at Vientiane in September 2019 with the aim of providing support for preparing the legal system on EE&C framework in Lao PDR. The main topics were as follows.
(1) Confirming the progress of the finalization and the approval process of the energy conservation Prime Minister Decree.
(2) Promoting the finalization of the S&L regulation draft and the examination of the S&L operation system.
(3) Starting activities in the "Model Project" for promoting the energy management system arrangement.
〇September 10-13, 2019 Vientiane, Lao PDR
| | | |
| --- | --- | --- |
| | | |
| Workshop participants | Discussions to finalize the proposed S&L regulations | EnMS periodical report creation practice |
| | | |
| Simplified energy audit (Tobacco plant) | Simplified energy audit(Shopping Mall) | Opinion exchanges on audit results |
In the first workshop this time, there was participation by approximately 20 representatives of the ministries and agencies that are directly related to the system preparation, including the Institute of Renewable Energy Promotion of the Ministry of Energy and Mines (IREP, MEM) as the responsible agency for energy conservation, Électricité du Laos, National University of Laos Faculty of Engineering, Malaysia (Energy Commission) as the ASEAN supporter, and the ASEAN Center for Energy (ACE).
○Regarding the energy conservation Prime Ministe Decree, a proposed amendment was formulated based on the opinions of each of the ministries and agencies and the comments of ECCJ. ECCJ offered opinions for reviewing the business operator designation standards based on the actual situation in Lao PDR. A final draft reflecting these opinions was developed, and it is planned to resubmit this to the Prime Minister's Office in an aim to gain approval.
○Also regarding the S&L system preparation, revisions were made based on comments from ECCJ. Reconfirmation of the details was made by ECCJ, and this is planned to lead to finalization. In addition, aiming for the actual system operation, it is necessary to prepare items including supplier registration system, product registration system, performance evaluation system, and label affixing methods. It is planned that IREP will proceed with investigations independently while also referring to the information supplied by ECCJ and case examples from Malaysia and Singapore.
○Regarding the energy management system arrangement, "Model Project" activities were started under an academic, industrial, and government initiative. By giving practice of creating periodical reports in the buildings field and factories field, and implementing energy conservation simplified energy audits of a shopping mall and tobacco factory, understanding was deepened between the project members regarding required data analysis and the key points for implementing energy management on sites.
At the second workshop to be held in December, periodical report format draft based on the actual situation in Lao PDR will be developed.
EnMS: Energy Management System
IREP, MEM: Institute of Renewable Energy Promotion, Ministry of Energy and Mines
* AJEEP: ASEAN-JAPAN Energy Efficiency Partnership
Program for building EE&C capacity in the ASEAN region by dispatching experts and implementing training in Japan