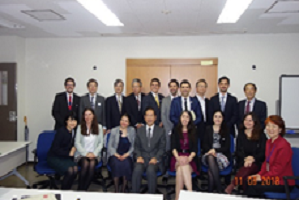 Implementation of JICA Energy Conservation Training Project for Chile on Nov. 2018
Under the instruction and financial support of the Japan International Cooperation Agency (JICA), the Energy Conservation Center, Japan (ECCJ) implemented an energy conservation training project that provided guidance in Japanese energy conservation policy and technologies to 10 trainees from Chile (with participation by related members of the government, private industry groups, and private enterprises) between October 29 and November 9, 2018.
The training implemented this time was intended to provide the trainees from Chilean governmental and private institutions engaged in promoting energy conservation with an understanding of the energy conservation policy and energy conservation activities relating to Japanese construction (housing and buildings) so that they can reference this information when implementing activities in Chile.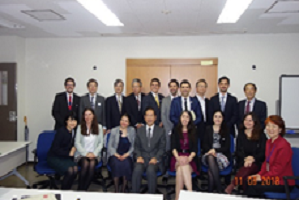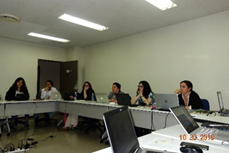 The program objectives shown below were established to configure the program.
1. Provide participants with an understanding of Japanese energy conservation policy.
2. Give participants an understanding of the technological measures for energy conservation implemented in the Japanese construction sector.
3. Give participants an understanding of the activities implemented by Japanese private companies to achieve construction energy efficiency.
4. Conduct study on the introduction of Japanese energy conservation activities (policies, systems and technologies) into Chilean policy and the possibility of introducing them into companies. (Creation of action plans)
The training was intended to provide information on Japanese energy conservation activities. The program was configured to first provide general information including the basic policies in the industrial, commercial (housing and buildings) and transportation sectors, followed by provision of specific information in stages, including the basic energy conservation policy relating to buildings, the Building Energy Efficiency Act and the energy efficiency standards and certification systems for buildings.
With the cooperation of national research institutes, private research institutes and private buildings, inspection visits to facilities were made concerning the situation on energy conservation measures and disaster prevention measures, which are related to both Japan and Chile.
Also, with regard to ZEBs and ZEHs, which are currently promoted in full scale in Japan, explanation was made on its promotion situation and inspection visits were made to ZEB/ZEH facilities.
Further, because Chile is considering the promotion of prefabricated housing, a Japanese prefabricated factory was included in the inspection visits.
On the presentation held on the final day, the trainees summarized the items to be reflected in the policy of Chile from among the information obtained from the training.